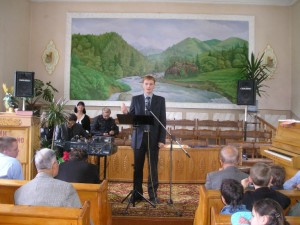 During service
My name is Paul and I am 27 years old. I am pastor of «REVIVAL» Baptist Church in Vizhnitsya region. We have 98 members already and our Church is the only Baptist Church in our region. Our Church consists of people from 15 surrounding villages and I visit all those villages where our members live. It means that my ministry field is very widespread, in 15 villages and for about 60 km away from the Church.
I was chosen to be a pastor in 2008, but before that – I was a missionary and a Bible teacher in my Church area. After Church has chosen me, I have started my ministry as a pastor and as a missionary in our area and my main goal is to reach many people for Jesus.
I've been studying in Theological Bible institute for four years and earned a bachelor degree of theological education. After graduation, I was invited to be a teacher of History in the same institute and now I am involved in that ministry also.
Of course, I am doing it for free, but I am sure that I will get my reward in heaven. As for now, I have five services a week and three Bible groups in different places around the mountains. So I am involved in ministry almost every day
With God's help our Church grows and God added 6 new members which were baptized last year and 10 new people that year. These are the results of God's Grace and ministry that I am doing.
Pastor Paul and his wife Tanya Dudka.